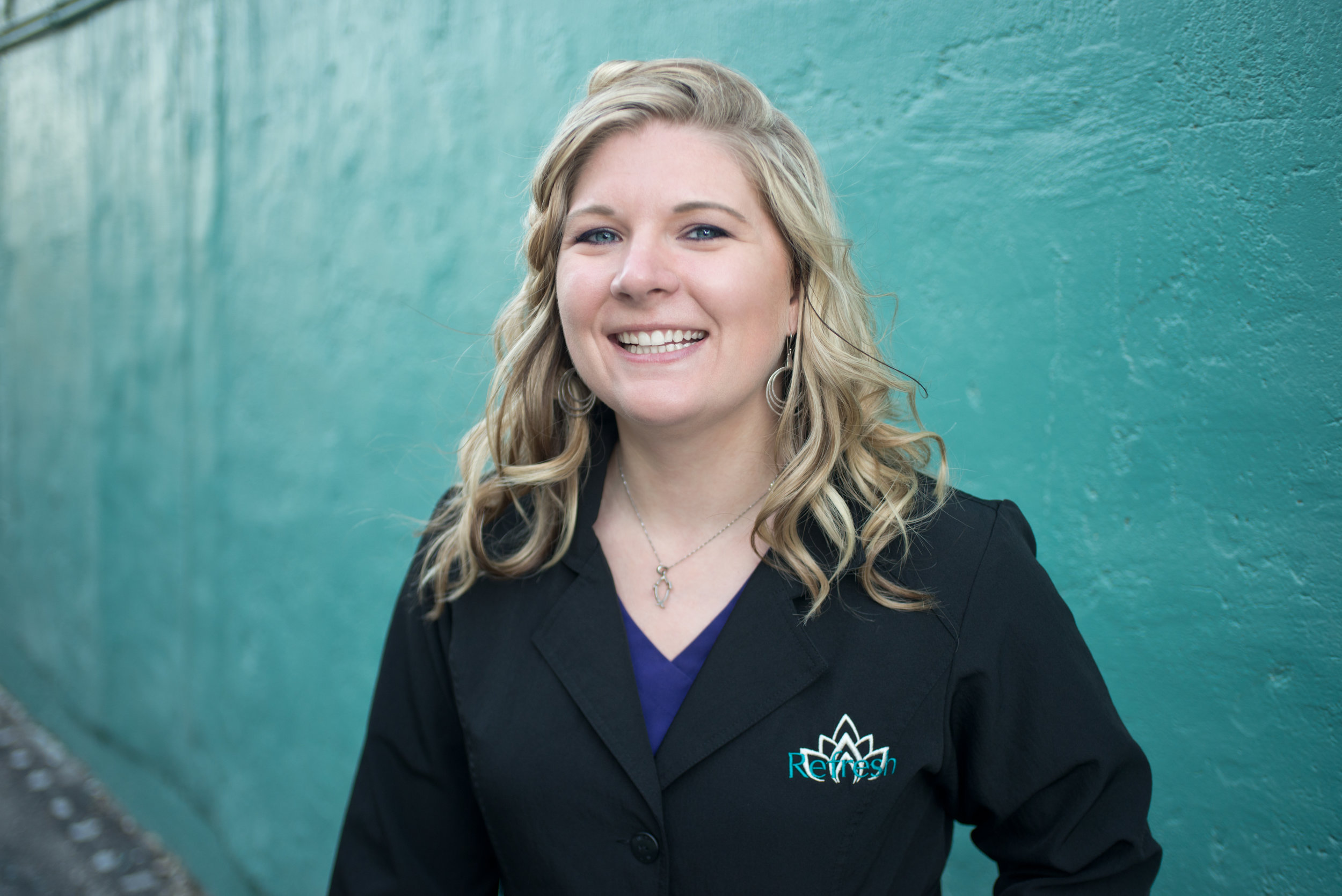 I am the owner and operator of Absolute Skin since February 2008. I am an Esthetician!For those of you who are not familiar with the term Esthetician, I am also referred to as a Skin Care Specialist. I professionally help improve and maintain the health of skin and correct certain skin conditions through deep cleansing, massage, the use of masks & other products, and various facial & body treatment methods including the use of tools and machines. I also professionally remove facial & body hair with waxing or other methods.
My favorite definition of an Esthetician is "a person who is knowledgable about the nature and appreciation of beauty." This is such a special description of my job to me. There is hope in a blank canvas because it is where beauty is made. I personally understand the struggle of acne and all the damage that comes with it, internally and externally, it is a huge reason why I am in this business. One of the greatest joys I experience is when I am able to empower someone to change what they see in the mirror and to choose to see their own beauty as they notice their skin condition improving. I know how it feels to lose hope and to see ugly in the mirror. I have also gone down many different avenues to end up with the same acne problems over and over. If you can relate, bring your canvas to my fresh eyes and let's work together to help you get the results you have given up on achieving. I know everyone has heard "beauty comes from within" and "beauty is in the eye of the beholder," well I always say "healthy skin is beautiful skin." If you are working on improving the health of your mind, body and spirit, it will improve your skin, my friends, and that is a beautiful thing!
Education
I completed my training in the Esthetics program at The Academy at Austin, a Paul Mitchell Partner School, in October 2007. I have taken many different continuing education classes and have earned certifications over the years to further my education. I have taken several hair removal classes to develop my own technique and confidence to meet your waxing needs. I am a PCA Certified Professional and I continue to benefit greatly from extensive education from an elite network of skin health professionals in the PCA SKIN Company. I strive to provide result-oriented custom skin care solutions for the health of your unique skin. I am also always studying essential oils and the amazing holistic healing benefits they naturally bring to the body. It is exciting to me that I will never run out of things to study to further my knowledge of the skin, body, health, product ingredients, and techniques to grow in my career and continue to serve you with the best of my abilities.
I was only 20 when I started this business so naturally it feels like my "baby." Not only have I built up a clientele but I have gained many new friends that feel like family. It's very important to me that when my clients come in that the experience is like visiting a friend they trust. My regulars can attest to this as they have watched me grow from a young scared girl with braces to the confident woman I am today. My business would not have grown if it wasn't for my clients so I make it my goal to ensure each and every person feels welcomed and appreciated. Whether you need to vent to me about your stressful day or whether you need a break from the chaos of life to decompress and relax, I will do my best to give you the individual attention you need and deserve for that visit along with the actual service I'm providing of course, ha!
Throughout the years, I've not only earned many new clients, but also many new friends. I am 100% committed to giving my clients the individual attention they need and deserve. As my regulars can attest to, I take the time to listen to all of your needs and wants to ensure that your time spent with me is as beneficial as it can be and we meet your skin care goals. I strive to create an environment at Absolute Skin that my clients look forward to being in and feel the freedom to indulge in luxurious pampering while also receiving a break from the hustle-and-bustle of everyday life. I offer a personalized spa experience that can improve your appearance and overall health, reduce stress, boost your self esteem, and rejuvenate your spirit.